FAVT goes Cuba
A COLLABORATION BETWEEN THE BAYREUTH ACADEMY OF ADVANCED
AFRICAN STUDIES, IWALEWAHAUS (UNIVERSITY OF BAYREUTH) AND THE
CENTRO FERNANDO ORTIZ
EXHIBITION:
EXHIBITION OPENING:
FRAMEWORK PROGRAMME: 24/01 – 27/03 2018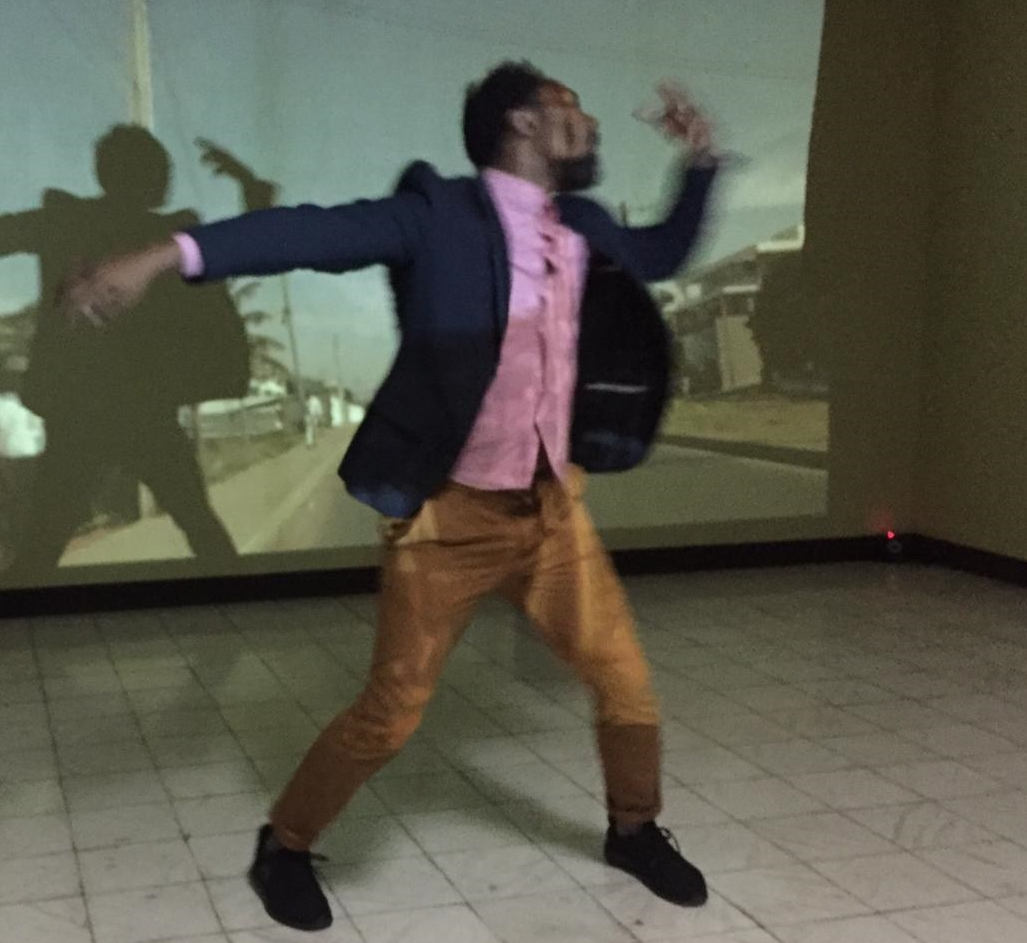 Artist Lulu Sala in his opening performance of FAVT Cuba, April 2019. Photo by team FAVT.
In April 2019, the FAVT-team of researchers and artists was invited to produce an edition in cooperation with the colleagues of the Centro Cultural Africano Fernando Ortiz in Santiago de Cuba/Cuba. FAVT especially focussed on the key terms #intervening, #queering and #suspending. The exhibition was opened on the 13th of April 2019, and featured the following artists: Afrobapho, Emeka Alams, Raphael Bqueer, Ute Fendler, Katharina Fink, Rai Gandra, Délio Jasse, Constantin Katsakioris, Kiluanji Kia Henda, Ingrid LaFleur, Kitso Lynn Lelliott, Luís Carlos Patraquim, Simon Rittmeier, Lulu Sala, Nadine Siegert, Kae Sun, The Strategical Radicals
Lulu Sala and Dr. Kitso Lynn Lelliott as well as Dr. Nadine Siegert, Prof. Ute Fendler, and Dr. Katharina Fink were present in Santiago de Cuba, presenting work in the African Studies Conference at Centre and in the context of the exhibition.
Ambassadors from several African Countries, among them Ghana, Ethiopia, Gambia, and Namibia, were present at the exhibition opening and expressed high interest in the focus on future as a performance. This conversation is ongoing and hopefully leads to future engagements.
Especially for the researchers around the themes of images and Revolution 3.0 of the Bayreuth Academy of Advances African Studies, exciting contacts and future connections opened up. Regarding the South-South relations, FAVT as an incubator opened up many possibilities for intellectual exchange and cooperation. Curator Nadine Siegert of UBT stressed the importance of cooperation with Cuban colleagues in the light of African Studies networks. The flow of images and patterns in complex networks between the African continent and Cuba was one of the key experiences for curator Katharina Fink of UBT. And curator Marvin Rodriguez of Centro Fernando Ortiz celebrated the FAVT-intervention as a very promising cooperation and expressed high interest in taking this exchange further.
As in every edition, FAVT opened a space for true cooperation, future networking and a dense discussion of the politics around the loaded theme of 'future'. The curators are grateful for this opportunity and will continue the exchange in a number of follow-up projects. We are looking forward to all things FAVT, Cuban and global in the next year