Project: "Future Africa - Visions in Time"
"Future Africa and beyond– Visions in time" is the first significant project of the Bayreuth Academy. The basis is the observation that concepts and representations of 'future' outside of Europe often present themselves as being incredibly innovative and dynamic, and as such, they are dealing with a unique set of challenges. That is particularly true for Africa and the African Diasporas.
A new perspective on African Studies
The exploration and discussion of future perspectives in Africa and amongst its Diasporas is at the heart of the project. Until now, the focus has been on the diverse range of agendas that projected time and again onto the continent from outside. However, global interplay and the implications of future perspectives developed in African societies and its Diasporas should always be taken into consideration.
Exploring these concepts of future allows stimulating trans-continental observations which incorporate comparative perspectives while taking existing perspectives into account. Regional research on Africa and other regions offers significant contributions to systematic debates about the 'future' across the world.
Five avenues of research - Interdisciplinary and creative
Work on the project takes place at two levels. Firstly, between 2012 and 2018, five sub-projects of varying academic fields will research several empirical aspects of the main topic:
The following graphic shows the way these different modules are inter-connected and on the whole constitute the main project "Future Africa":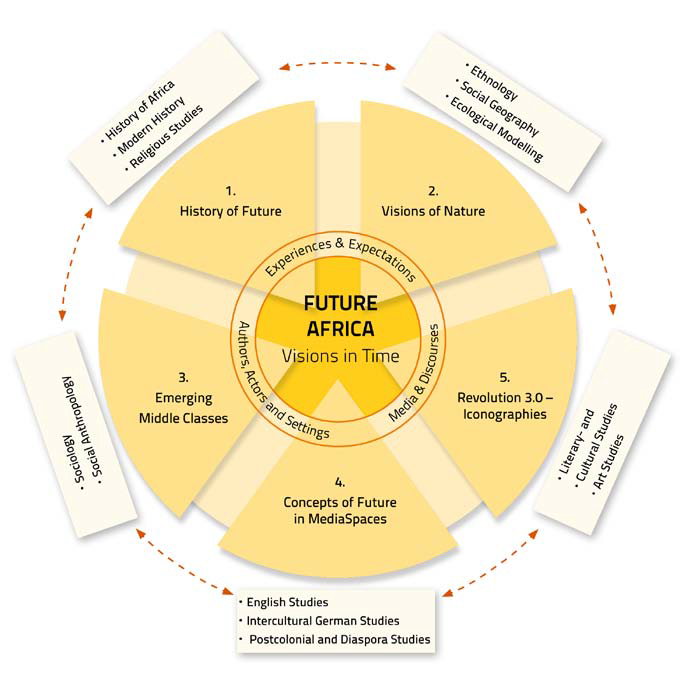 Working together - Talking together
The second part of the project work comprises six working groups. Each convenes for one semester between the summer semester 2013 and the summer semester 2016. With the participation of selected guests, the groups discuss interdisciplinary and interregional aspects of the topic 'Future Africa.' The working groups systematically compare empirical research results, stimulate theoretical and conceptual debates and produce methodological reflections. The global and social diversity, the temporal structure and the model character of concepts of future arise during discussions, as do the presence and representation of knowledge of and for the future.