Activities
Scientific events and panels

2016
From 15.-16. January 2016 the Workshop "Celebrating whose independence? - Visions of the Post-Colonial Nation in Africa" took place at Iwalewahaus. The workshop was organized by Subproject 1. Please find further information, as well as the entire programme here.
2015
From 9.-11. October 2015 the conference "Geschichte(n) der Zukunft: außereuropäische Herausforderungen" will take place at the University of Bayreuth. It is organized by the "Arbeitskreis Außereuropäische Geschichte (AAG)" of the "Verband der Historiker und Historikerinnen Deutschlands (VHD)" in cooperation with the Bayreuth Academy of Advanced African Studies (University of Bayreuth). Please find more Information here.
Annalisa Urbano presented a paper titled, 'The Four Powers Commission of the United Nations and the disposal of former Italian colonies (1947-8)' at the Expertise in the League of Nations Mandates conference in Paris. (March 2015)

Christine Whyte was a finalist in the BBC's New Generation Thinkers 2015 competition and attended a workshop at Broadcasting House in London on 10 March to discuss her research with BBC programmers and presenters. (March 2015)
From January to April 2015, Annalisa Urbano was invited to be a post-doctoral fellow at the European University Institute in Florence in the department of History and Civilization.

Annalisa Urbano co-organised and presented at a panel, 'International Organizations and the End of Empire in Twentieth Century's Africa', at the American Historical Association's Annual Meeting in New York, 2-5 January.
On 11 December 2014, Christine Whyte presented on the topic of childcare in 19th century Liberia at the Kent University History Seminar.

On 10 December 2014, Christine Whyte presented her monograph project, Slavery and Freedom in Sierra Leone at the Birmingham University Centre for African Studies.

Christine Whyte participated in an IconLab Session on 5 December 2014 with Paul Miller (DJ Spooky) organised by sub-project 5.
On 27-28 November, Annalisa Urbano and Christine Whyte organised a post-doc workshop for members of the Academy. Both Christine and Annalisa presented their ongoing research at this workshop. Christine presented on the connections between Liberia College and early Pan-Africanism, Annalisa on Political Imagination and Global Governance in Somalia.

From 15 October to 15 November 2014, Christine Whyte was invited as a Postdoctoral Research Fellow at the Gilder Lehrman Center for the Study of Slavery, Resistance, and Abolition at Yale University.

As a fellow of the centre, she conducted research in the Church Missionary Society archives haled at the Yale Divinity School and gave a public lecture on 'Freetown's Alien Children: Colonialism, Childcare and Anti-slavery in 19th Century Sierra Leone' on 29 October 2014.

A conference on "Catastrophe or catalyst? African and African Diasporas' visions arising from World War One", was convened by Sub-project 1 "Narratives of the Future in History" at the Bayreuth Academy from Oct. 2nd to 4th 2014. The conference drew attention to non-European dimensions of the war that are hardly attended to during the current commemorations of its centenary: the experiences of violence and sacrifice, but also of mobilisation, connectedness and unfulfilled promise that the involvement of Africa and its diasporas in this war meant for them. The focus was on the extent to which these experiences became catalysts of new ideas, demands and struggles for political, economic and social change; of the emergence of new political, social and religious movements; and of radically altered visions of Africa's future. For details see the review.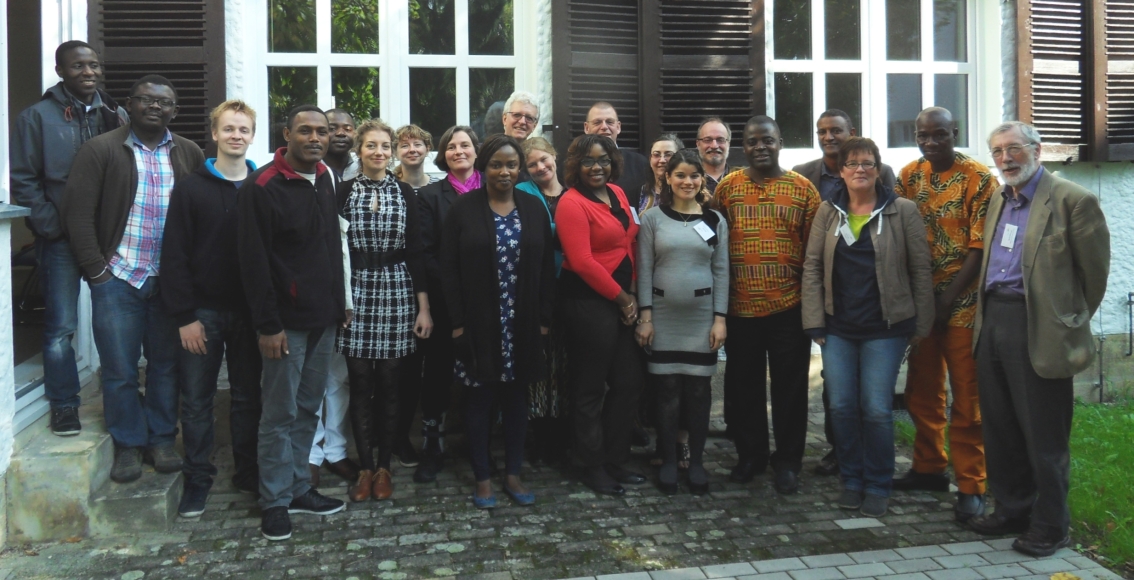 Participants of the conference in front of the Bayreuth Academy of Advanced African Studies
In the Winter Term 2013-2014, Sub-project members organised the Academy Working Group B "Multiple Futures Through Time" by the Bayreuth Academy of Advanced African Studies, with 2 Workshops (Nov. 2013 and Jan. 2014). Details here
Christine Whyte conducted archival research at the British Library, The National Archives (London) and the Labour Archive (Manchester) in september 2013.
Anna, Annalisa and Christine have officially joined the team! The Narratives of the Future sub-project team is now nearly complete, please see the 'Team' page for more details.
Annalisa Urbano attended the Eighth International Seminar on Decolonization, held in Washington DC in July 2013. More information here.
Colin Milburn (UC) was invited to participate in the Academy Workshop in July 2013.
Achim v. Oppen, in cooperation with Geert Castryck: 28.6.2013: Panel 177 "Diaspora in East-Central Africa: histories of memory, mobility and belonging". 5th European Conference on African Studies, Lissbon. Details here
Achim v. Oppen, in cooperation with Geert Castryck/CAS Leipzig and Katharina Zöller 7.-8.6.2013: International Conference "Bridging Histories of East and Central Africa", University of Bayreuth. Details here
Christine Whyte spent a week in the Amistad Research Centre at Tulane University in New Orleans, US in June 2013.
Achim von Oppen convened a panel at ECAS 2013 (June) with Geert Castryck (CAS Leipzig), titled 'Diaspora in East-Central Africa: histories of memory, mobility and belonging', taking translocal mobilities in the region as a challenge to established spatial and temporal categories in area-based historical research. More information here